Regarding Ynab
Recorded on August 19th, 2016
A friend of mine told me about the new YNAB Toolkit browser extension. The people who wrote it and contribute to it aren't affiliated with YNAB — they're just enthusiastic about the new web-based version of the app and see opportunities to add features that the rest of us think are missing.
If you're a YNAB-online user, you have to get this thing. The extension adds a ton of new features to YNAB. I'm using the Chrome one, because the Safari version is a little bit behind while Apple reviews the update. Some of my favorite additions:
The "Check #" column is back in the account register!
Net Worth Report (actually, any reports at all are a big step forward)
In-cell calculator like in YNAB4!
Searching transactions, like in YNAB4
Alternating row colors in the register
Shortcut buttons show Scheduled or Reconciled items quickly in the register
Current month is highlighted in blue in Budget view
Recorded on August 17th, 2016
Of all the good new features in the online version of YNAB (browser access from anywhere, faster syncing with mobile, direct import of transactions), my favorite by far is the Goals feature. It makes it monumentally easier to stow away money in a bucket every month. You may need to pay the exact same amount to a service (like Netflix @ $9.99/mo), see how long it'll take to save up $1,000 for something, or calculate how much you should budget each month to be able to pay your insurance premium six months from now. Goals can help with any of these.
Here's a goal I created tonight for a $190.80 annual bill I know we have coming up in October: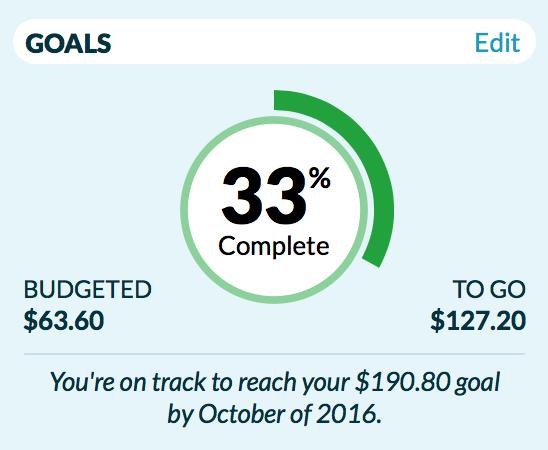 I don't want to slack off for now and then have to scramble to come up with all of that dough in the month that it's due. A much better way to deal with it is to spread that cost out over the months leading up to the total bill being due. In this case, I have August, September, and October in which to do it. For a goal like this, all YNAB needs is a total target dollar amount and a target month, and it'll calculate the $63.60 I need each month between now and when the bill is due. Each month, it'll tell me how much I need to add to that bucket to keep up with the plan. When you do your budgeting each month, you can click one button to automatically budget that amount ($63.60) based on the per-month target.
It would have been better if we had started this version of YNAB earlier so that I could have averaged that bill out over 12 months, for a much smaller per-month contribution to the goal, but: shoulda, woulda, coulda. If anything, YNAB teaches you to start now, with what you have and what you know. Learn from your mistakes and do a little better next month.